Product name : Fully automatic 24 spindles linear coil winding machine (SS2430)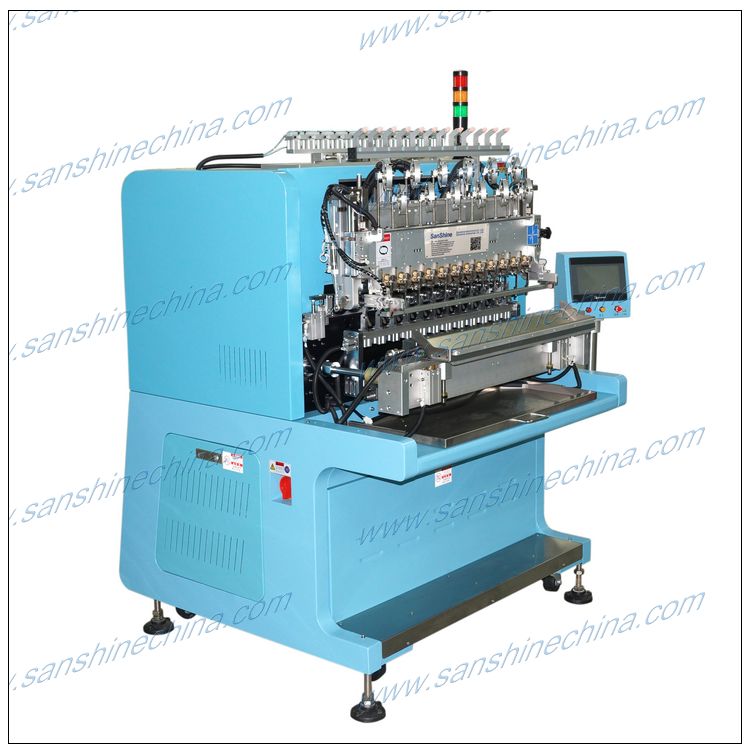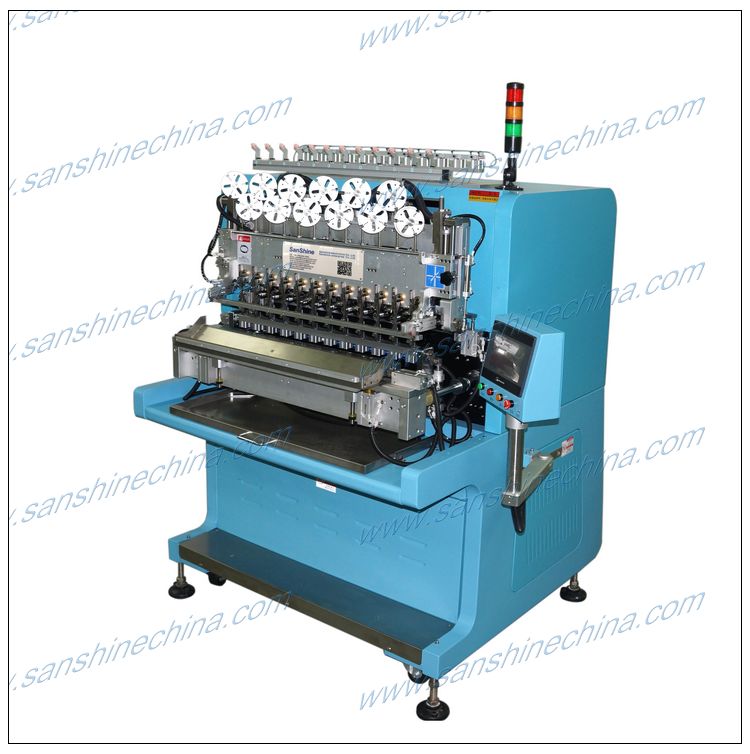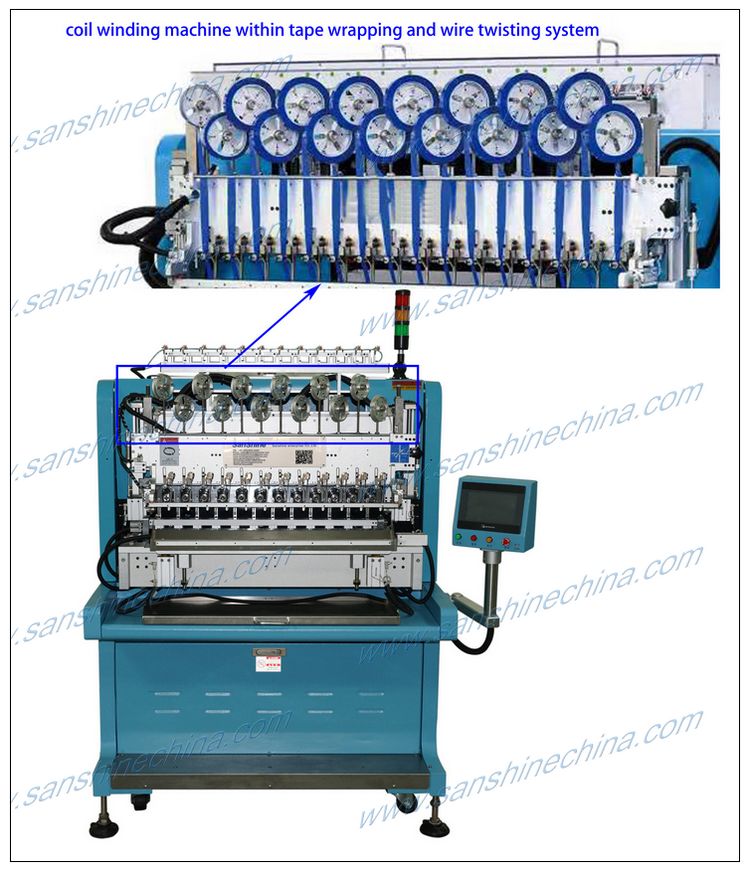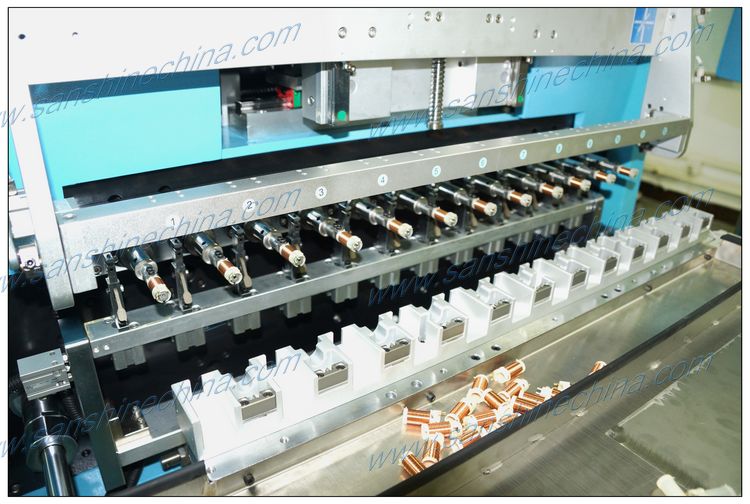 Finished products show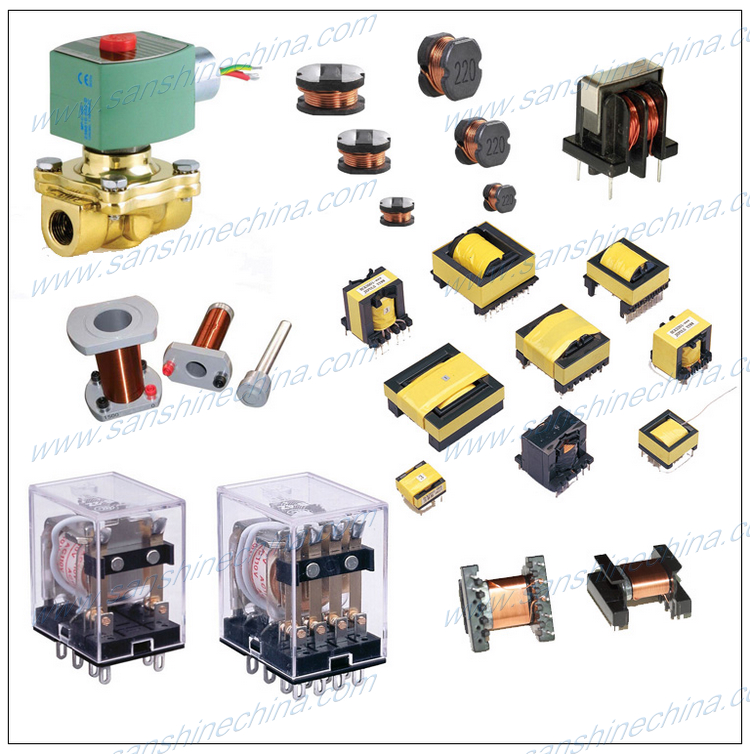 Description :
The fully automatic twenty four spindles linear coil winding machine (SS3824) is used for winding the linear small power transformers, signal transformers, inductors, relays, valve coils, solenoid coils, telecom transformers. This fully automatic twenty four spindles linear coil winding machine (SS3824) is named PCB mounted transformer coil winding machine and ETD transformer winding machine and saving energy light transformer winding machine also. The fully automatic 24 spindles linear coil winding machine can finished the coils without any one manual actions. Load the bobbins and down load the completed coils in fully automatically. Make the wire winding, wire twisting, tape wrapping, wire cutting and wire stripping processing by fully automatically quickly via different function optional system. Promote your production quality to a top grade and raise production efficiency quickly.
Fixtures :
1),Specially wire cutting system for thick wire and TEX wire.
2),The wire clips can hold wire still automatically when air pressure cut off.
3),Can cut off air pressure automatically when electric power off.
4),Can wind multiple piece wires in parallelly at same time on same bobbin.
5),Calibrate the original position of X / Y / Z spindles automatically.
6),Automatically loading and unloading function.
7),Wire broken alarm function.
8),Wrapping tape function.
9),Wire twisting function.
10),Wire cutter cutting function.
11),Wire stripping function.
12),High precise servo motors with high precise controlling system and movement system.
13),Multi-angles to wind wire terminal on the pins.
14),Winding jigs and loading /unloading fixture can be changeable easily.
15),Chinsee / English operation interface switchable with touching screen.
16),Potable adjustment keyboard.
Specification :
Model
SS1206
SS8008
SS1208
SS7010
SS9910
SS6012
SS8012
SS4516
SS6016
SS3824
SS3532
Spindle numbers
6
8
8
10
10
12
12
16
16
24
32
Center distance between spindles
120mm
80mm
120mm
70mm
99mm
60mm
80mm
45mm
60mm
38mm
35mm

Max.Dia.

Or width

of bobbin

55mm
50mm
55mm
45mm
50mm
42mm
45mm
30mm
42mm
20mm
16mm
Wire diameter (mm)
0.02~0.8
0.02~0.6
0.03~0.6
0.02~0.5
0.03~0.5
0.02~0.45
0.02~0.5
0.02~0.35
0.02~0.35
0.02~0.35
0.02~0.3
Control way
Precise CNC multi-axis AC servo motor transmission system, position controlling precisely.

Spindles rotating speed

(RPM)

Max.

9000

Max.

9000

Max.

7000

Max.

9000

Max.

8000

Max.

12000

Max.

8000

Max.

12000

Max.

10000

Max.

12000

Max.

15000

Winding nozzle

angle

0° , 90° , 45°(optional)
Spindles rotating angle
360° +/- 0.1
Traverse range of winding nozzle
(X Axis):0-100mm (Y Axis):0-100mm (Z Axis):0-60mm

Accuracy

of

winding nozzle

movement

0.01mm
0.01mm
0.01mm
0.01mm
0.01mm
0.01mm
0.01mm
0.01mm
0.01mm
0.01mm
0.01mm
X/Y/Z Axis servo motor power (KW)
(X):0.4 (Y):0.4 (Z):0.4
(X):0.4 (Y):0.4 (Z):0.4
(X):0.4 (Y):0.4 (Z):0.4
(X):0.4 (Y):0.4 (Z):0.4
(X):0.4 (Y):0.4 (Z):0.4
(X):0.4 (Y):0.4 (Z):0.4
(X):0.4 (Y):0.4 (Z):0.4
(X):0.4 (Y):0.4 (Z):0.4
(X):0.4 (Y):0.4 (Z):0.4
(X):0.4 (Y):0.4 (Z):0.4
(X):0.4 (Y):0.4 (Z):0.4

Wire terminal clips

device moving servo motor power

400W
400W
400W
400W
400W
400W
400W
400W
400W
400W
400W
Winding spindle servo motor power
1.5KW
1.5KW
1.5KW
1.5KW
1.5KW
1.5KW
1.5KW
1.5KW
1.5KW
2.0KW
2.0KW
Operation interface
Easily and simply teaching model operation system(Chinese / English operation interface switchable with touching screen)
Program storage method
Direct storage + USB
Power supply
Single phase AC220V 50/60 Hz or AC110V 50/60 Hz by request
Power
3KW
3KW
3.5KW
3KW
3.5KW
3KW
3.5KW
3KW
3.5KW
3.5KW
3.5KW

Air

source pressure

5-6Kgf/cm2

Servo

motor

Panasonic or or FUJI or YASKAWA
Cylinder
SMC / CKD /Airtac / Chelic Cylinder

Machine

net

weight

650Kg
650Kg
750Kg
650Kg
750Kg
650Kg
750Kg
650Kg
750Kg
900Kg
900Kg

Machine size(mm)

(with tensioners shelf)(W*L*H)

1500*

1200*

1820


1500*

1200*

1820

1700*

1500*

1650

1500*

1200*

1820

1700*

1500*

1650

1500*

1200*

1820

1700*

1500*

1650

1500*

1200*

1820

1700*

1500*

1650

1200*

1500*

1600

1700*

1500*

1650

Bobbing loading and finished coil

unloading way

Operator place bobbins on the Auto. Loading and unloading fixture first, then machine insert the bobbins onto the winding spindles automatically, will unload the finished coils automatically. ( fully automatic loading and unloading bobbins and coils function by request to customize, fully automatically loading and unloading function which no need operator to place the bobbins on the fixture. These winding machines can be integrated with our automatic solder tinning machines and automatic testing machines and core assembly machines so that to be one fully automatic finished coils production line without operator. we provide the fully automatic finished coils production line by user request.)

Tape wrapping function
optional
optional
optional
optional
optional
optional
optional
optional
optional
NO
NO

Wire

twisting function

optional
optional
optional
optional
optional
optional
optional
optional
optional
optional
optional

Thick wire cutter

cutting function

optional
optional
optional
optional
optional
optional
optional
optional
optional
optional
optional
Wire stripping function
optional
optional
optional
optional
optional
optional
optional
optional
optional
optional
optional
Wire broken alarm function
optional
optional
optional
optional
optional
optional
optional
optional
optional
optional
optional