Product name : Automatic extra toroid double heads winding taping machine (SS1000WT)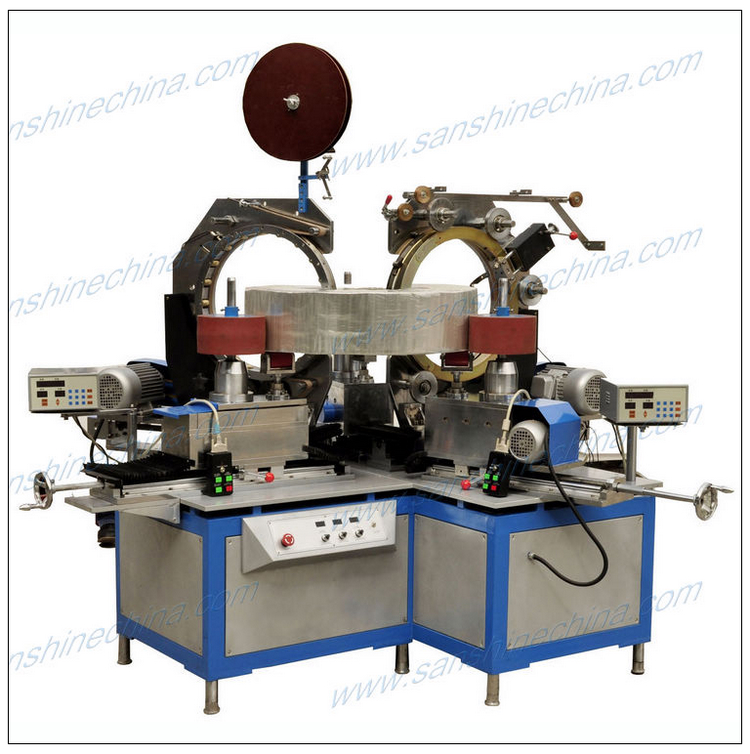 Description :
The Gear type Digital Automatic Extra Toroid Double Heads Winding Taping Machine (SS1000WT) adopts one big winding head and one big taping head with the precise digital toroidal controller. This toroid winding and taping machine is an accurately and reliability digital automatic toroidal winding and taping machine. This toroid winding and taping machine is used for winding thick wire and wrapping insulation tape or film on the extra large toroid core at same time. The toroidal winding and taping machine be also named double winding head winding machine. and toroid core film wrapping machine and tape taping machine. This type winding machine is used for winding the extra big toroidal transformer, electric system toroidal current transformer, large big toroidal coils with thick enamel wire, heavy big toroidal core with heavy wire, electric extra high voltage toroid transformer, etc. .
Features :
1. Adopts the gear type double winding heads, one winding winding head, one tape taping head. the winding head winds very heavy wire and gear type taping head to wrap insulation tape, and interchangeable roller table with different size shuttle(magazine) for different dimensions coils and different wires and tapes,turns, so that to reduce the cost. one set standard automatic toroid coil winding and taping machne include one PCS winding shuttle and one PCS taping shuttle only, other sizes winding shuttles are optional.
2. High technical winding shuttle and taping shuttle for winding and taping at same time by highest efficiency.
3. Separate speed controls for loading and winding and taping.
4. Accurately count length of loading by limited-switch.
5. Accurately count turns of winding and taping by photo-electricity sensor.
6. Programmable winding and taping direction, winding and taping returns range (Turns or Angle) and segment winding and taping angle.
7. Accurately wire and tape spacing by adjustable.
8. Adopts two PCS handset program controllers so that easy to control and program during set up, because the coil is so big and machine is so big also.
9. Memory capacity accommodates 29 sets programs with off-power memory retention.
Specification :
| | | | |
| --- | --- | --- | --- |
| Wire diameter | 1.5 - 5.0mm | Head number | one winding head and one taping head |
| Insulation tape width | Any dimensions | Max. winding speed | 150 RPM |
| Max. final coil O. D. | Φ700 -13500mm | Wire spacing | stepping motor |
| Min. final coil I.D. | Φ650mm | Supply voltage | AC220V,50Hz single phase |
| Max. final coil height | 320mm | Mechanical dimensions | 1500*1350*1500mm |
| Controller storage capacity programs | 29(sets) | Weight | depend on core different size |
How to select the best suited automatic toroid coil winding machine for your toroid coil ?
Tell us your toroidal coil of data as below please :
1.toroid core outside diameter before winding?
2.toroid core inside diameter before winding?
3.toroid core height before winding?
4.how many windings on this core?
5.how many turns of each winding?
6.how about the copper wire diameter of each winding?
7.provide pictures of product which is more better.