Product name : Industrial hot air cycled electric drying baking oven (SS-OV01)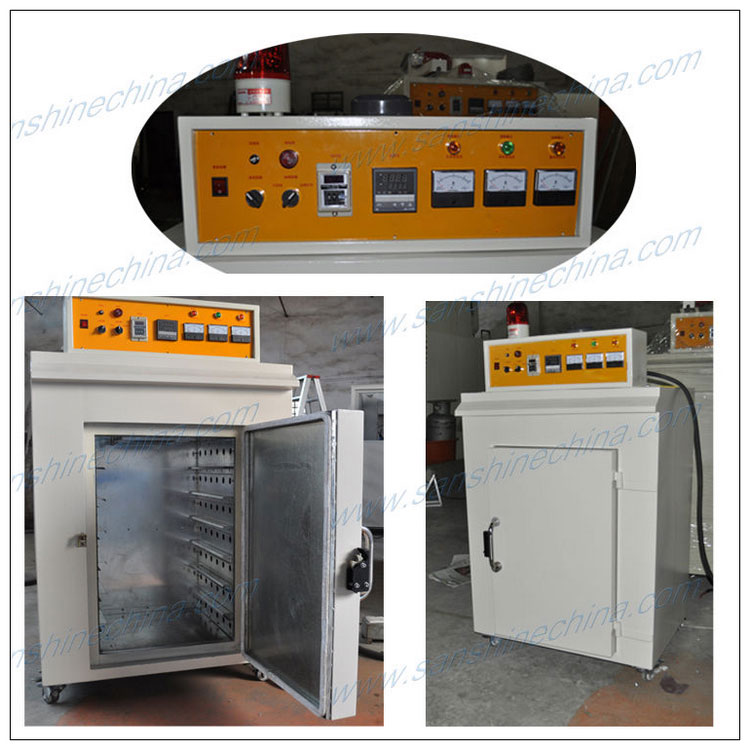 Description :
This industrial hot air cycled electric drying baking oven (SS-OV01) adopts the principle of level hot wind conveying and the precision digital programable temperature controller. This baking oven is applicable to the drying and warming solid of all parts. This drying oven is called varnished transformer drying oven and varnished winding drying oven also. This electric drying and baking furnace is widely used for drying the industrial enamel paint, insulation oil, insulation resin, insulation glue, insulation enamel, insulation varnish, moisture. Like as : drying the insulation varnish of inductor, insulation varnish of transformer, insulation varnish of motor, insulation varnish of generator windings, insulation oil of windings, toys, hardwares, bag glue for leather goods, gypsum products and silicon glue forming etc. .
Functions and features :
1. Double digital programable temperature controllers, Automatic constant temperature; The work temperature can be set according to the product of requirements easy.
2. Have the alarm function and over temperature protection function.
3. Has the programable timer for controlling the working time. When the setting time end, the oven will be stopped automatically.
4. Safe and reliable, operate conveniently.
5. Fixed 3 PCS temperature sensors at three different places in the inner of the oven for testing and monitoring the working temperature.
Technical parameters :
1. Overall structure: The outer box is soldered by the conversion of 1.5mm iron boards. The interlayer is filled with 80K chrysotile for heat preservation. The way of wind conveying is level wind conveying.
2. The electric heating system: Use 3-phase 4-line 380V, the total power is about 6KW.
3. Wind conveying system: Motor 3-phase 4-pole 380V, the diameter of fan is 9 inches (powerful multi-wing B direction)
4. The functions of control system include phase, circuit break, short circuit, overloading, over temperature, explosion prevention and environmental protection.
5. Work thermostatic scope: 0º C~250º C (the temperature be customized by user's request)
6. Thermal difference: ± 1º C~3º C
7. Inside empty size of oven: L800* W500 *D500mm (the size can be customized by user's request)
8. The color of machine can be changed by customizing.
9. The baking layers and baking trays can be customized by user's request.
we can customize the high temperature industrial oven according to user's requirements, welcome to inquire.