Product name : Programable automatic wire spool rewinding machine (SS-RW01)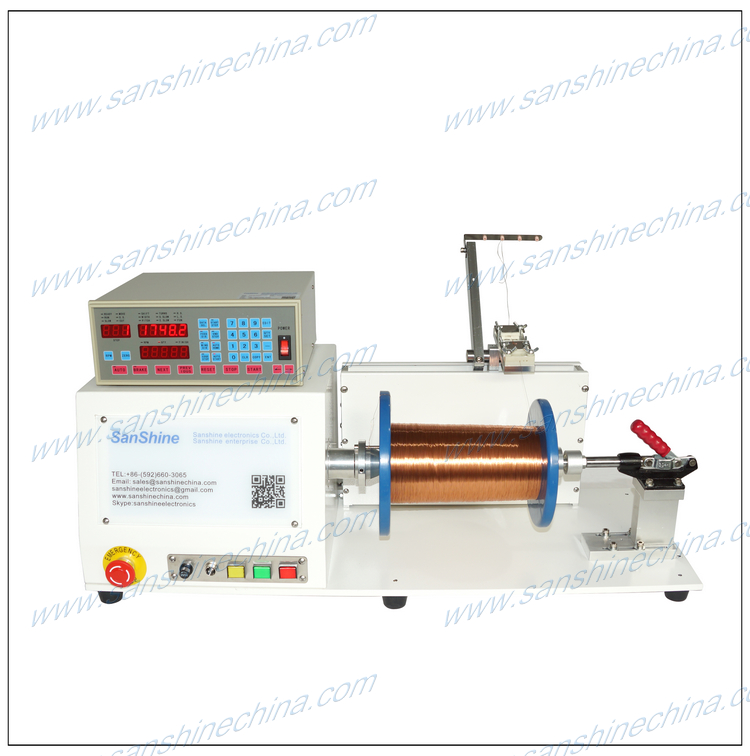 Description:
The programable automatic wire spool rewinding machine (SS-RW01) adopts accuracy computer numerical control system. This wire rewinding machine is driven by DC motor and equipped with precise stepping motor for wire spreading during winding in automatically.This wire bobbin rewinding machine is called wire spin windining machine, aluminum wire rewinding machine and copper wire rewinding machine also. This wire rewinder is specially used for rewinding the metal wire (resistance wire, heating wire, copper, aluminum wires etc.) onto one small spool(bobbin) from the big spool whithin a lot of wire.
Features:
1. Large memory for processing programs(0~999 steps).
2. It can wind by clockwise and counterclockwise with requested speed.
3. The winding turn numbers is accurately. There is the function of power-off protection.
4. When some problems occur, the data can be automatically saved.
5. CNC controller can monitor and display the production status.
6. The setting and operation are easy and so conveniently.
7. Low-speed winding by high torsion.
Specification:
1. Power source: AC 220V, 50/60HZ.
2. Winding speed: 0~900RPM.
3. Wire diameter: Ф0.08~Ф0.7mm.
4. Winding diameter(Spool OD): Max. Ф270mm.
5. Spread width(traverse): Max. 300mm Max.
6. Winding spindle motor: DC 600W.
7. Spreading motor: steping motor.
8. Winding turns: 0~ 99999.
9. Spread pitch: 0.001 - 9.999mm
10. Machine size: L97*W40*H55 cm
11. Machine weight: 45Kg